Anivia is a Champion card in Legends of Runeterra from the Freljord region. You can find all Legends of Runeterra cards on RuneterraFire.
Champion
Freljord

3,000 Shards
Attack:
2
Health:
4
Mana:
6
Last Breath These abilities take effect when the unit dies.
Attack Get this effect when this unit attacks.
Card Text
Attack: Deal 1 to all enemies and the enemy Nexus. Last Breath: Revive me transformed into Eggnivia.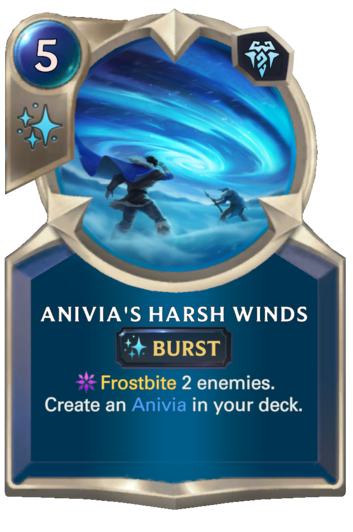 Spell
Anivia's Harsh Winds
Frostbite 2 enemies. Shuffle an Anivia into your deck.
Flavor Text
"I was born from this hard land, and it is mine to safeguard. Time, war, even death itself will not stop my vigil."